The 1794 Flowing Hair Dollar (Buy on eBay) holds an important place in history and numismatics. Besides representing the first year of issue for the silver dollar denomination, the issue also carried a limited mintage and experienced heavy circulation, making any surviving examples great rarities.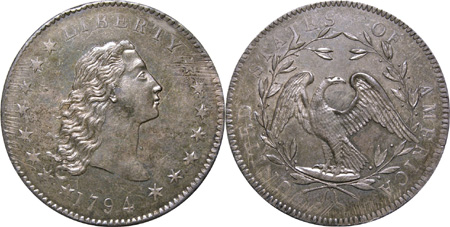 Although 2,000 pieces were originally produced, a quantity of 1,758 were actually released. Of this number, it has been estimated that only 130 to 150 examples have survived to the present day. Many of the surviving examples have been damaged and cleaned over the years, but due to the great rarity and historic importance, even these pieces are highly prized. As many as fifteen uncirculated pieces exist, including a few pieces of exceptional quality.
A single specimen striking has been designated by PCGS and graded SP-66. This coin is struck from the same die state as a copper trial striking and features an above-average strike, proof like surfaces, and excellent eye-appeal. These characteristics have led many to believe that this coin was the first silver dollar ever struck in the United States. The coin, which is pedigreed as the Neil/Carter/Contursi specimen, sold for $7,850,000 at auction in May 2010. The piece subsequently sold in a private transaction for more than $10 million.