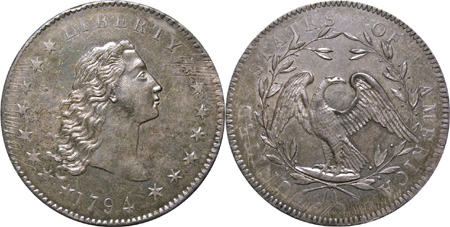 The 1794 Flowing Hair Dollar holds an important place in history and numismatics. The coin represents the first year for the silver dollar, the first regular denomination silver coin struck by the United States government, and a mintage rarity.
Although 2,000 pieces were originally produced, only 1,758 were released. Of this number, it has been estimated that approximately 135 pieces still survive in all grades, although some sources mention numbers as high as 150. This is a remarkably high number for a large denomination coin from the 18th century, and it proves that these coins were cherished from the beginning. As much as fifteen uncirculated pieces exist, including a few in exceptional quality.
Many of the surviving examples have been damaged and cleaned over the years, but due to the great rarity and historic importance, even these pieces are still highly prized.  The early mint sometimes made adjustments to planchets before striking the decrease or increase the weight. The resulting adjustment marks or silver plugs generally do not detract from the value, since they were made during the minting process.
In May 2010, the Neil/Carter/Contursi specimen of the 1794 Flowing Hair Silver Dollar set a record as the world's most valuable coin. It was graded PCGS Specimen-66 and sold for $7,850,000. In addition to the exceptional quality of the piece, it is also believed to be the first silver dollar ever struck by the United States Mint.